WHAT'S IN THE WORKS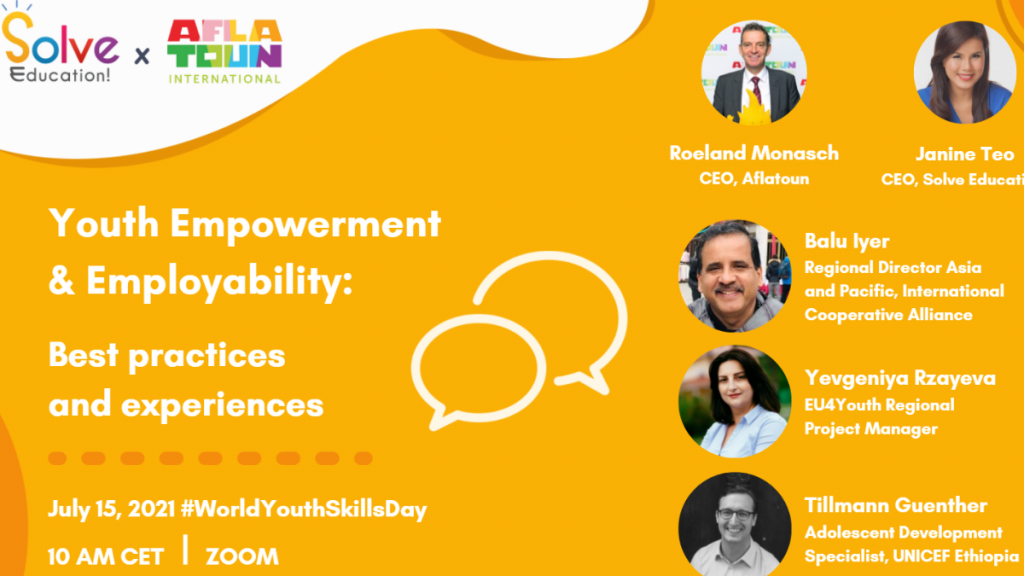 In light of World Youth Skills Day, in collaboration with Aflatoun International, we are hosting a global webinar on July 15th, 10 AM CET with partners, governments, NGOs, funders, education experts present to discuss youth employability, the digitization of employability skills, and the importance of skill-building for youth empowerment.
During this webinar, we will also announce the global launch of the employability module together with Aflatoun International.
Sign up for the webinar here
Or, tune in on Youtube here
To find out more click here
EVENT FEATURES
Join the youth movement!
We gathered thought leaders from all over the globe to share the one skill that changed their life in support of youth empowerment.
We encourage you to join the Youth Employability campaign and get featured on our social media!
#WorldYouthSkillsDay #SolveEducation #AflatounInternational
HIGHLIGHTS
With more people from the bottom of the pyramid gaining access to information and knowledge via low end smartphones, Solve Education! team is excited to enable people to empower themselves through education.
Our CEO Janine Teo, had the opportunity to speak about this at the ATxSummit which is an exclusive invitation-only conference discussing the future of tech. The guest of honor for the conference is Mr Heng Swee Keat, Deputy Prime Minister and Coordinating Minister for Economic Policies, Singapore. The other esteemed speakers are from governments, corporates and global enterprises who would share their enriched experiences about the challenges, trends and opportunities in technology.
Check out the event here