HIGHLIGHTS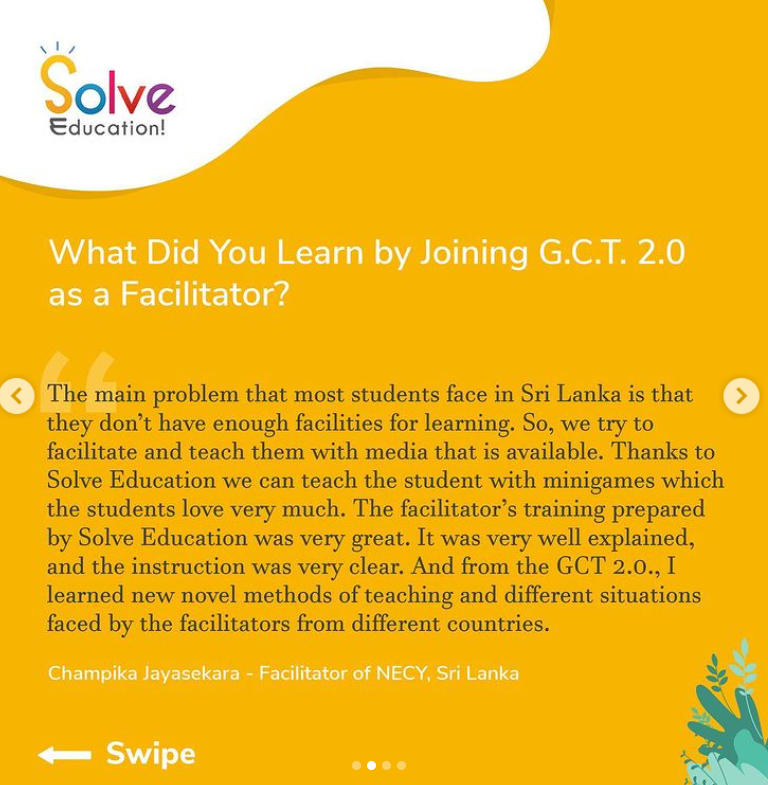 Here is what the attendees have to say our about Global Collaborative Training (GCT) 2.0. Swipe to read more about their story and how GCT 2.0 benefited them!
Global Collaborative Training (GCT) is an exclusive training session for all Solve Education! Partners. The main objective of the 2021 GCT is to empower our partners with relevant skill sets that can benefit your beneficiaries in learning. Also, this will be an opportunity for everyone to share the unique approaches, programs, tips, and tricks you applied with your learners. In addition, GCT is designed as an open forum to exchange ideas, as we understand that you are the frontline of your learners where you know your circumstances best.
Learn how to engage students remotely on our next GCT on the 30th of November 2021. Click Link here to join.
#SolveEducation#Education#Learning#English#testimony
MEET OUR PARTNER
Meet our partner NECY (Network for Education Children and Youth) from Sri Lanka. NECY is a non-governmental organization consisting of 32 members. They work to ensure Child and Youth rights and Quality Education for all irrespective of any social factors.
Take a look at their passionate students who won grocery vouchers for showing exceptional improvements in their CEFR levels just within a week of learning.
HIGHLIGHTS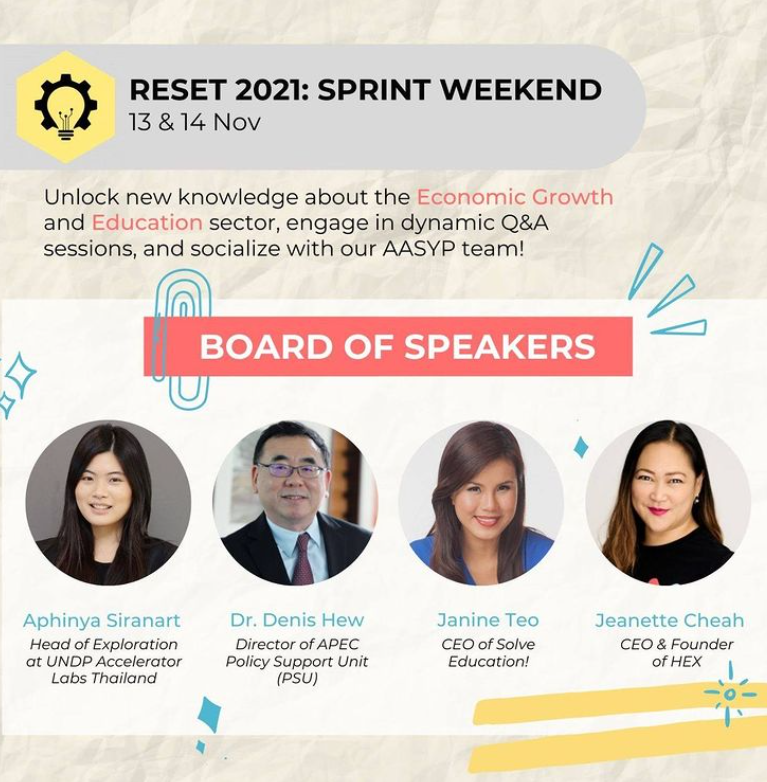 The digital revolution is bringing in dynamic innovations. In this context, how can the education sector promote inclusive economic growth?
The ASEAN-Australia Strategic Youth Partnership (AASYP) Reset 2021 is a virtual innovation challenge that gathers leaders across Australia and ASEAN nations to tackle the above innovation challenge.
On the 13th of November, our CEO Janine Teo was a part of the AASYP Reset 2021 Sprint Weekend, which is a series of live-streamed interviews with thought leaders. It was hosted by Mr. Daniel Phelan, Project Officer AASYP.
She spoke to an enthusiastic audience about how Solve Education! is making quality education accessible through interactive ways like gamification, widening our understanding of education beyond traditional ways, etc.
#SolveEducation#aasyp#AASYPReset2021#sprintweekend#EconomicGrowth#Education#ASEAN#YouthPartnership#innovation#virtual
MEET OUR VOLUNTEERS FROM THAILAND
We are so grateful to our volunteers from Thailand's hospitality sector, who helped us localize our English content for young Thai learners.
A huge shoutout and thank you to them!
WHATS COMING UP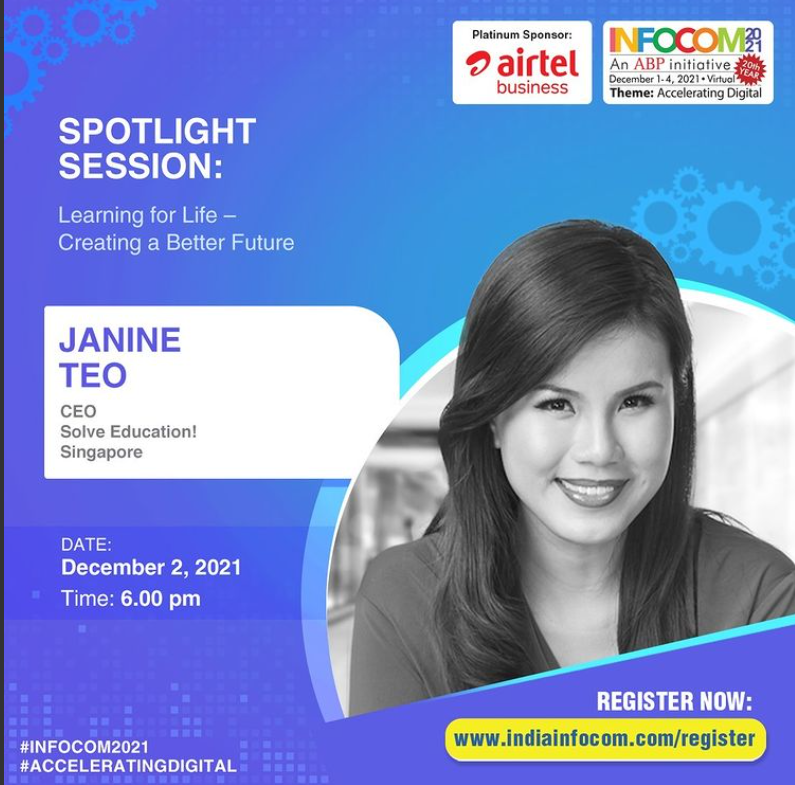 INFOCOM 2021, India's top business, technology, and leadership conference, is back in its 20th edition between December 1st – 4th on a virtual platform with the theme "Accelerating Digital".
CEO of Solve Education! Janine Teo will be a Speaker at the Spotlight Session on 'Learning for Life – Creating a Better Future' at INFOCOM 2021.
Get ready to hear her ideas on how education is the key to solving many challenges we face in the world today!
Date: December 2, 2021
Time: 6.00 PM IST
To register, click here
For more information: www.indiainfocom.com