This month, both India and Indonesia celebrate their 72nd and 74th year of independence. While the means to independence can extend from violent war to a peaceful demonstration, the purpose is the same: to banish the feeling of inequality. With independence, comes the authority to both define and defend our own fundamental rights, including the right to education. Following the declaration of Indonesia's independence, an Act declared in the 1945 Constitution, that every citizen has the right to education, placing it on par with the right to live. The constitution then became an underlying principle for the Act No.20 year 2003, which configures the 9-year (age group 7-15) compulsory education scheme. As for India, the Right of Children to Free and Compulsory Education (RTE) has been enacted in 2009, to ensure that all children in the age group of 6-14 years get free and compulsory education. Both Acts has successfully managed to enrol and retain more students in school.
Our Support to India and Indonesia Education
To promote the action, Solve Education! has wholeheartedly dedicated itself to take a role in ensuring equality in access to quality education, especially for the less privileged communities so they receive the same opportunity to build their dream future through education. We address this through innovation. This year, our free-to-play educational solution has reached around 9.400 children and youths around the world. 845.000 hours of learning have been monitored and 31.000 learning sessions have been attained by working hand in hand with education stakeholders, varying from communities, corporates, to other NGOs.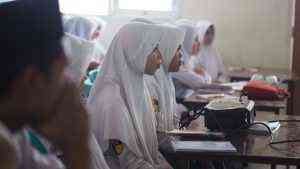 As a means to continue reaching out to more learners, this month we've visited two vocational high schools located in Cianjur, West Java, Indonesia. We are working in collaboration with Yayasan Usaha Mulya, a nonprofit organization that works to support the marginalized community in Indonesia to exit the cycle of poverty. The intention is to assist high school students in the area to be more confident in practicing English through our game, Dawn of Civilization.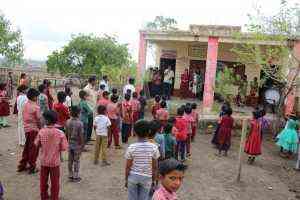 We are excited to announce that in India, we have recently launched a project with Dilasa Janvikas Pratishthan, a non-governmental organization with decades of experience working with farming communities in rural India. We are working with government schools in the villages of Dongargaon and Shirdi in Maharashtra to help improve their students' English literacy and 21st-century skills. The project aims to identify the gap between the children's existing level of literacy and the minimum proficiency level they are required to have at their relevant grade level. Once identified, we'll work to close the gap using our innovative technology as an effective independent learning tool, as well as a medium to facilitate better in-classroom teaching methodologies for improved learning outcomes.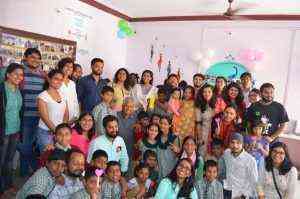 We also joined hands with other high-impact organizations like Teach for India, the Global Shapers Community, and Vidya Foundation to launch the 'Swabhimaan Community Centre' in Bangalore, India. The centre is located in Rajendranagar, an area predominantly occupied by socio-economically marginalized communities, and will be open to schools, children, and youths in the neighborhood. Solve Education! will be working with children and teachers at the centre to help improve learning outcomes through our game, as well as organizing programs for youths to facilitate skill development and employment opportunities.