Through rapid advancement and improvement of technology, the worldwide education landscape is now in an ever-changing state. The vast potentiality in what technology can provide breeds new methods and techniques through which teachers teach and students are taught. To mention a few, massive open online courses (MOOC), digital game-based learning (DGBL), and intelligent tutoring systems (ITS) are among the many education technology products that are proliferating nowadays. It then leaves the question of efficaciousness: which are the most preferable and promising methods and techniques? To answer such a question is not a simple matter. It requires an extensive process of data mining and analysis derived from the students' learning behavior and experience.
In the education field, we have become familiar with the term 'learning analytics'. It is a technique that has been used for decades but its utilization has been amplified recently with the help of artificial intelligence and machine learning. Learning analytics is a data-driven process for evaluating the effectivity of learning materials and tools. Through this learner-centric approach, the students can also take benefit as it allows them to take control of their own learning, give them a better idea of their current performance in real-time and help them to make informed choices about what to improve. Through this article, we will briefly explain what learning analytics is and the pedagogical use of it.
What learning analytics really is
Learning analytics is essentially the process of collecting data from learners while they're being engaged in a specific learning environment. It also includes the analysis and reporting of this information. The key pieces of data are recorded throughout the duration of the learning process. The relevant information obtained will show data related to the students' learning progress, such as how quickly the student is progressing through a particular module, how many times they have engaged with the platform, etc.
Through learning analytics, online tutors can also get a comprehensive look at how a learner is performing, and whether the learners may need any additional help with a particular lesson or subject. Such data can then be used to make pedagogical analyses and predictions that help to determine which learning materials are appropriate and which are irrelevant for the learners. This is primarily based on the learners' performance, skill level, and personal interests.
The approach of implementing learning analytics may vary depending on the objectives one wants to achieve or prioritize. In general, there are two data analytics approaches that are often used in educational contexts: descriptive and prescriptive analytics. Both frameworks have different analysis results but serve the same purpose, that is to help improve the teaching method in such a way that students will be more engaged and understand the module more efficiently.
Descriptive analytics
Simply put, descriptive analytics will describe what has happened and the way things are, providing the relevant information to make strategic decisions on the best pedagogical content for each student. For example, you can use descriptive analytics to find out how much your learners have been progressing in the subject. To make the data useful, further analysis is needed from the tutors, to assess whether the strategy implemented is or is not effective. An even further step can be performed by setting up a new strategy based on the descriptive data to improve the learning outcomes.
Peek: Learnalytics, our web-based learning analytics platform is great for performing descriptive analytics. It allows you to get an insight into the individual or group learning performance, and derive a pedagogical strategy to improve the learning efficiency.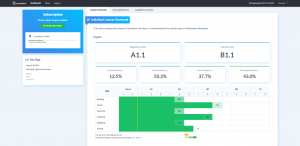 Prescriptive analytics
This framework not only provides teachers with data that they can then use to make actionable decisions, but it will also provide alternative suggestions to make teaching more effective. Based on the student data collected, the analytics tool generates suggestions of different educational resources and tools to utilize in order to make a greater impact on students. Prescriptive analytics provides schools and teachers with insights into student understanding and adaptive instructional techniques based on student performance.
Peek: Learnalytics is also capable of performing prescriptive analytics. We have provided a list of suggested learning activities which are customized based on learners' learning performance.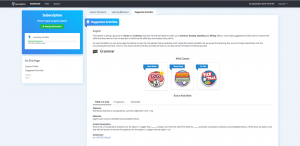 At Solve Education!, we believe that a data-driven approach will improve the quality and value of the learning experience. We use artificial intelligence methods (combined with machine learning techniques built on data mining) which are capable of detecting patterns in data from the learners who are using our game, Dawn of Civilization. It will provide you with the classification of students in more dynamic ways than merely simple demographic factors, and resources such as "suggested course" systems modelled on a collaborative filtering technique.
Take a tour to learn about Learnalytics, our learning analytics platform designed to help tutors provide their learners with the best learning content.